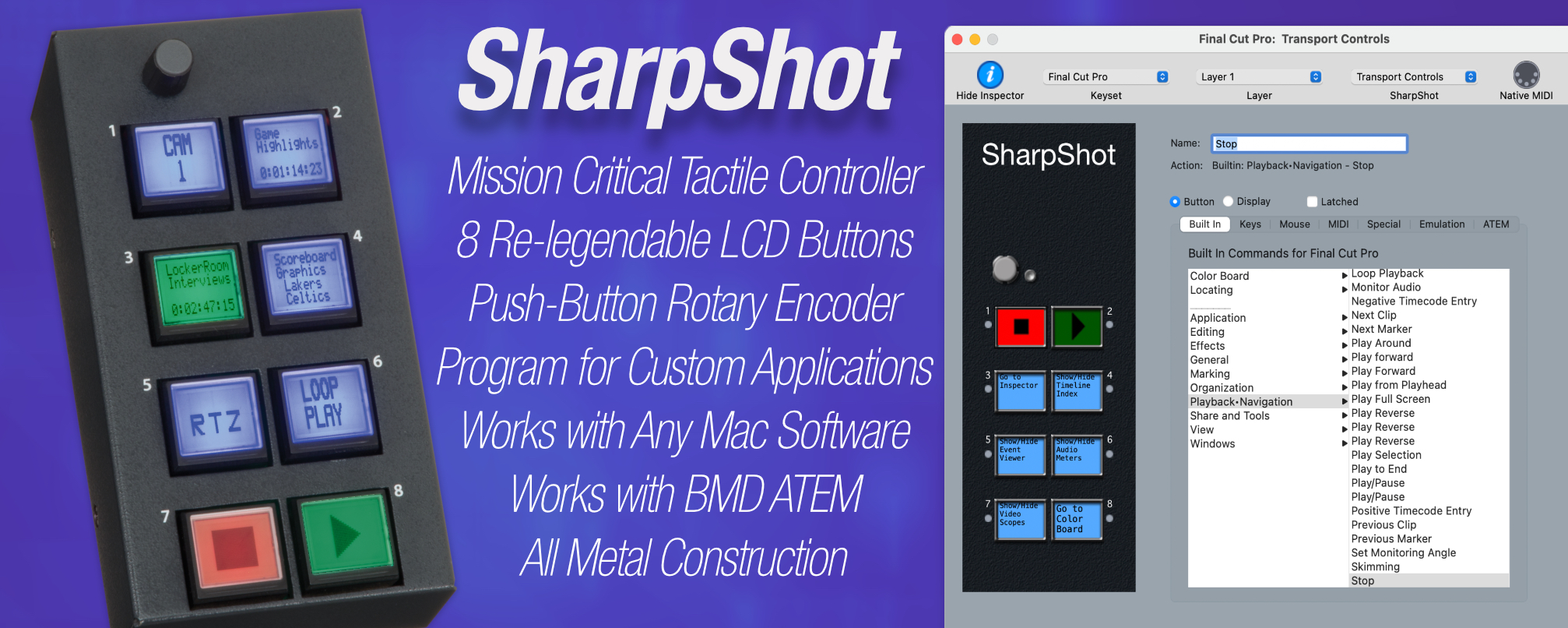 SharpShot
Ultra-Compact Command Palette
SharpShot™ is an ultra-compact desktop controller with eight, hi-res, remotely-relegendable 64 x 32 LCD keyswitches along with one push-button, rotary encoder. The keyswitches display text (up to 40 characters) and graphics using built in command driven serial interfaces. They integrate a graphical LCD with RGB backlighting and are capable of displaying up to 64 colors. Software controls the interface, display and backlighting.
SharpShot is the perfect size for instant audio or video playback and control in broadcast automation and has many other possible specialized uses. It can alert users to changing operating conditions by showing different colors, text and icons. This enables a customized user interface that reacts instinctively to the task at hand. It helps users work faster and reduces the possibility of human error in critical applications. Its unique, compact shape fits anywhere and uses minimal space.
Other uses include control systems, automation systems, call centers, studios, boardrooms, financial services, telecom, industrial controls and more.
New SharpShot Software for Mac lets you customize it for use with ANY applications using built in messages, Keystrokes, Mouse Clicks, MIDI and more! Keysets for Pro Tools, Final Cut X, Logic Pro and other applications included. 920444-4 Compact Ethernet Interface Card required for use with Mac software.
Compact Interface Cards for USB, Ethernet, RS-232 or RS-422 connection are available.
Our Developer Program provides engineering support, and protocol for all of our products.
Specifications
Width - 2.88 in (7.3 cm)
Depth - 6.25 in (15.88 cm)
Height - 2.25 in (5.7 cm)
Weight - 1.25 lb (.57 kg)
©2023, JLCooper Electronics