AXOS
Professional Surround Panner for AVID Pro Tools™
and Apple Logic Pro X™
JLCooper's new AXOS Panner for AVID Pro Tools is a high-quality professional controller. It combines a Touch-Sensitive Joystick, 5 Rotary Encoders and 9 Tactile Switches for lightning fast, real-time mastery of surround panning and mixing parameters.
AXOS gives you comprehensive control including Pan, Divergence, Volume, Mute, LFE, Center Percentage and Channel Navigation.
It's plug and play, connecting to your Pro Tools System on Mac or Windows with no additional software required.
Optional software plug-ins for Mac OSX gives the AXOS Panner the added ability to precisely control automated surround mixing in Apple Logic Pro, Steinberg Nuendo and Cubase. Controls X/Y, Track Next/Prev., Angle, Radius, LFE, Spread, Center and more.
Direct support in MDA Creator version 1.2.
New-Direct support in Dolby ATMOS Tools 1.6.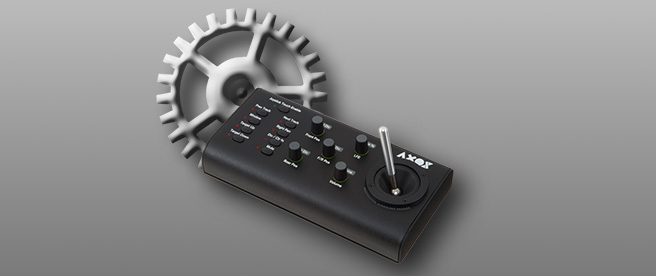 Plug-ins for Nuendo™, Cubase™ and Logic™
Features
Lightning Fast and Easy To Use
Works with AVID Pro Tools HD for Mac/Windows
Plug In Support for Apple Logic Pro on Mac
Works with Steinberg Nuendo and Cubase Mac
Touch-Sensitive Joystick
3m Captive USB cable Included - USB Powered
Low Profile Compact USB Class Compliant Design
Durable All Metal Construction
Host Mode for Software Developers
Specifications
Width - 7.9 in (20.07 cm)
Depth - 3.85 in (9.78 cm)
Height - 3.5 in (8.89 cm)
Weight - 2.4 lb (1.09 kg)
©2022, JLCooper Electronics